Live from the
Grand Teton Music Festival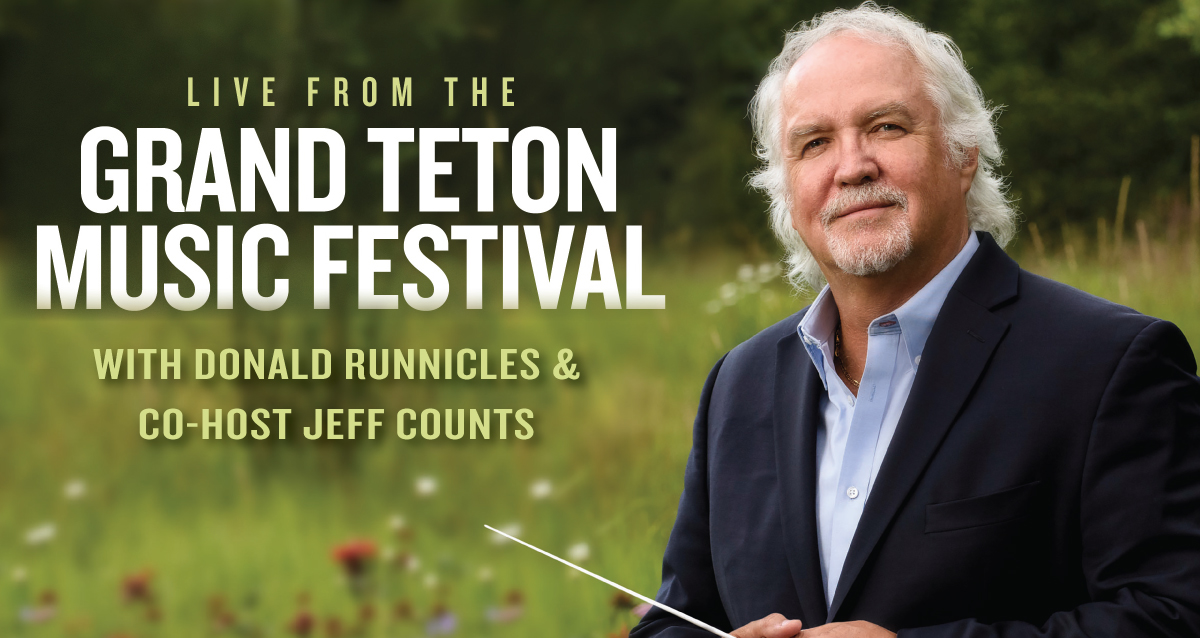 Hosts Sir Donald Runnicles and Jeff Counts
Click here for Programming!
Programs are 59 minutes and include a 30 second music bed at the end. Stations have the option to fade out at 58:30 and insert local announcements or underwriting at the station break or end of show.
Every summer, the nation's top musicians come together at the base of the majestic Teton Range in Jackson Hole, Wyoming, to create and all-star Festival Orchestra for the Grand Teton Music Festival Orchestra under the leadership of Maestro Donald Runnicles. Now in its 59th year, the Wall Street Journal has called the Grand Teton Music Festival, "One of the best places to hear classical music in the summer."
The all new 2021 radio series comes to you free and includes appearances by:
Yefim Bronfman - Johannes Moser - Karina Canellakis - Jeannette Sorrell - Markus Stenz - Jacquie Stucker - Julian Rachlin - Cristian Măcelaru - Vasily Petrenko - Osmo Vänskä - Jenny Ross - Madeline Atkins - Denis Kozhukhin - James Conlon - Jane Archibald - Kelley O'Connor - Women of the Utah Symphony Chorus - Barlow Bradford -Madeleine Choir School Children's Chorus - Melanie Malinka - Erin Roy
Maestro Runnicles, hailing from Scotland, has a career spanning many continents, both in the opera house and on the symphonic stage. He currently serves as General Music Director of the Deutsche Oper Berlin, Principal Guest Conductor of the Atlanta Symphony and the Sydney Symphony Orchestra, in addition to being Music Director of the Grand Teton Music Festival. Prior to his post in Berlin, he served as Music Director of the San Francisco Opera for 16 years.
With delightful tales and musical anecdotes from his storied career, Runnicles serves as host the of the program. He shares the mic with Jeff Counts—who previously hosted a film review show seen and heard throughout the West. Jeff also serves as General Manager of the Grand Teton Music Festival. Together they bring your audience music making at its best, from the Grand Teton Music Festival.
This year's season will conclude with a special performance of Mahler's Third Symphony with Donald Runnicles leading the Grand Teton Festival Orchestra. Scheduled for Programs 12 and 13, this performance is not to be missed!