Live from the
Grand Teton Music Festival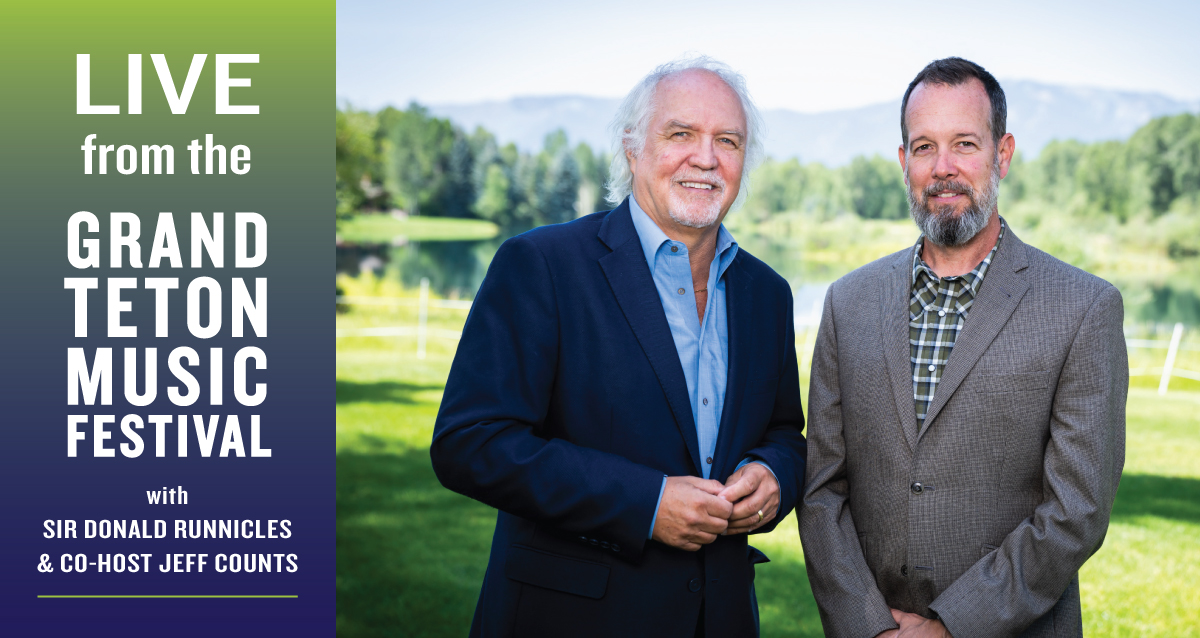 Hosts Sir Donald Runnicles and Jeff Counts
Click here for Programming!
Programs are 59 minutes and include a 30 second music bed at the end. Stations have the option to fade out at 58:30 and insert local announcements or underwriting at the station break or end of show.
Every summer, the nation's top musicians come together at the base of the majestic Teton Range in Jackson Hole, Wyoming, to create and all-star Festival Orchestra for the Grand Teton Music Festival Orchestra under the leadership of Maestro Donald Runnicles. Now in its 60th year, the Wall Street Journal has called the Grand Teton Music Festival, "One of the best places to hear classical music in the summer."
The all new 2022 radio series comes to you free and includes appearances by:
Madeline Adkins - Yefim Bronfman - Julia Bullock - James Conlon - Stéphane Denève - Michelle DeYoung - James Ehnes - Judith McIntyre Galecki - Caroline Gilbert - Susan Gulkis Assadi - Augustin Hadelich -Miguel Harth-Bedoya - Ling Ling Huang - Angela Jones-Reus - Leila Josefowicz - Marta Krechkovsky - Louis Langrée - Daniel Laufer - Michael Mulcahy - Rafael Payare - Elisabeth Remy-Johnson - Yi Zhao - Fabien Gabel
Maestro Runnicles, hailing from Scotland, has a career spanning many continents, both in the opera house and on the symphonic stage. He serves as General Music Director of the Deutsche Oper Berlin, Principal Guest Conductor of the Atlanta Symphony and the Sydney Symphony Orchestra, in addition to being Music Director of the Grand Teton Music Festival. Prior to his post in Berlin, he served as Music Director of the San Francisco Opera for 16 years.
With delightful tales and musical anecdotes from his storied career, Runnicles serves as host the of the program. He shares the mic with Jeff Counts—who previously hosted a film review show seen and heard throughout the West. Jeff also serves as General Manager of the Grand Teton Music Festival. Together they bring your audience music making at its best, from the Grand Teton Music Festival.
This year's season will celebrate the return to live performances at the Walk Festival Hall in Jackson Hole. Highlights include a magnificent performance of the Beethoven Third Piano Concerto with Yefim Bronfman, stunning concerto performances by James Ehnes, Michael Mulcahy, Augustin Hadelich and Leila Josefowicz, several new works and premieres.
The series consists of 13 one-hour programs, which are available free of charge to your station. This series is available for broadcast Jan 1, 2022 and has a broadcast window of two years. Each show is 59 minutes with one floating break. There is a 30 sec music bed at the end for local promotion.